Early in October during MIP COM in tawdry Cannes I caught up with Claire Aguilar, vice president of programming for ITVS over a bowl of truffle ravioli that was all the more delicious due to the weak dollar (oddly enough, I discovered that the frugal food of choice was a dozen oysters from Astoux et Brun with a glass of white wine, reminding me that one hundred years ago in New York oysters were the poor man's food because they were so abundant on the Sound, a briny contrast to their status today as a delicacy, but I digress...)

lTVS, based in San Francisco, is a CPB and foundation backed fund for independent producers that is open to both Americans and international producers, first time directors and producers as well as Tefflon industry veterans. ITVS green lights 40 projects a year that can be submitted either to the International Call, for funds up to $150,000 or Open Call, with budgets of up to $350,000. ITVS also commissions and acquires approximately 50 hours per year. At the moment, ITVS has approximately 50 programs in the pipeline and seven projects showing at the IDFA Film Festival and one being presented at the IDFA Forum in November.

As we relaxed at our sidewalk cafe, astutely ignored by the wait staff which allowed us ample time to chat while sipping our Pellegrino, I asked Claire to talk about the fund, what types of programs they are funding, how much they are funding, what funds they have, their other funding partners, the funding review process, and some of her favorite projects that she has funded.

I'll start by saying that I first met Claire a little over a year ago at the French Screenings in St. Tropez, where we were the two lone American buyers and found ourselves seated next to each other over a three-course gourmet meal in a private courtyard shaded by oak trees. Claire is active in the international market, flying to Africa, Portugal, and France (and that's just in the last eight weeks) to find projects that meet her programming needs, encouraging international producers to submit to the International Call as well as meeting with her international colleagues. The only requirement for submission to the International Call is that the topic cannot be about or by Americans; it is for international producers addressing global topics. Rather than ask her to describe the fund's objectives, I asked what her two favorite recent projects are; with no hesitation she replied, "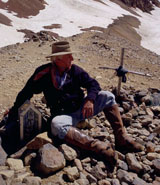 That's easy: Stranded and Waltz with Bashir."

Stranded: The Andes Plane Crash Survivors is a documentary featuring the remaining survivors of the Uruguayan soccer team whose airplane crashed in the Andes. They survived for seventy-two days. According to Claire, what makes the doc so compelling is the personalities and their survival stories.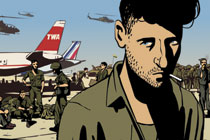 Likewise, Waltz With Bashir is an animated doc about an Israeli soldier's attempt to remember his involvement in the Sabra and Shatila massacre in Lebanon in 1982. Unusual as it is animated, the doc's strength is it's a personal story that has historical and current relevance.

Two other docs that Claire cited as coming directly out of the International Call were House of Saad and Cuba: An African Oddyssey. Both broadcast internationally and were co-produced with Nick Fraser of the BBC, who is frequently a partner along with other European broadcasters, such as TV2 in Denmark. The next submission deadline for the International Fund is February 1st.

On the domestic front, the next deadline for submission to the Open Call Fund is January 11th. The deadline for the International Fund is February 1.For both funds, ITVS receives roughly 300 submissions of which 30 are recommended and sent out for review. The review panel is a mix of commissioning editors, scholars, and media professionals. The reviewers recommend 10 from the 30 and then convene to discuss and finalize the recipients. The process from submission to release of funds takes five months.

Budgets submitted to Open Call go as high as $350,000. On average, Claire shared that a PBS budget is $600,000 per project with the majority of the money going above the line and that it is not unusual for there to be three executive producers attached to a project. A similar project from the U.K. would be made for $300,000. ITVS believes in providing enough money for a filmmaker/producer to pay themselves but often suggest that filmmakers also approach the NEH, the Sundance Fund, and POV for additional money as well consider seeking international co-pro partners if appropriate.

ITVS's funds have increased over the last eight years, even though under Michael Pack's time at the CPB there was pressure to fund and commission 'conservative films.' As Claire wryly pointed out, while they canvas for ethnicity and gender, it would be awkward to ask about a producer's political beliefs and integrate that information into their review process.

Leaving politics aside, as well as producing as a career for the wealthy as we polished off our pasta, we moved on to the thorny issue of contracts, schedules and deliverables. Since ITVS is a funding source and broadcaster rather than a grant agency, they ask for exclusive U.S. broadcast rights for a 4-7 years period as well as a credit and revenue share based on the contribution of the net. Many docs that they fund broadcast on the Sundance Channel, Nat Geo and Link TV in addition to PBS.

As our bill arrived I thanked Claire for her time and her support of MyFilmBlog.